Competitors Analysis Analyze and Gauge Competitors in the AI Market Book a demo In the ever-evolving landscape of AI, understanding your company and your competitors' strengths, weaknesses, and strategies is paramount. A well-informed investment strategy is built on a comprehensive understanding of the market players and the complex web of relationships between them.
At AI Industry Analytics, we take this competitor analysis to the next level. More than just company profiles, our dashboard plunges into the heart of each company's Unique Selling Proposition (USP). Recognizing a company's distinct advantage in the market can empower stakeholders and businesses to chart a course of success.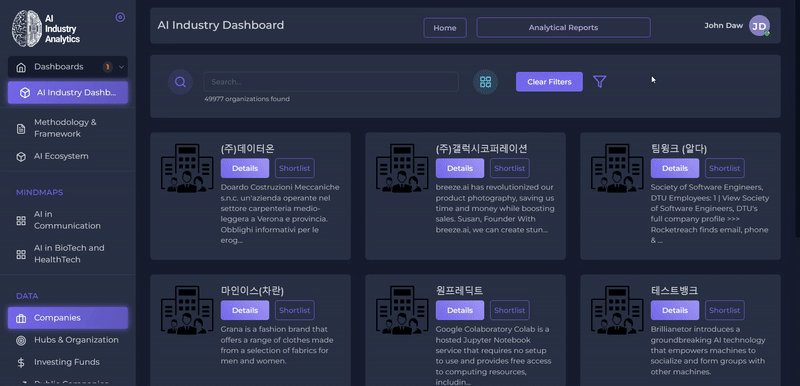 Advantages of Our AI-Enhanced Dashboard:
AI view of competitors with crucial insights at your fingertips

Analyze stakeholders, competitors, and even the stakeholders of those competitors

Profound analysis of stakeholders, their portfolios, their competitors, and even the portfolios of those competitor stakeholders.
Open your dashboard and glance to the left tab. Here, you will find dedicated sections for Companies and Stakeholders.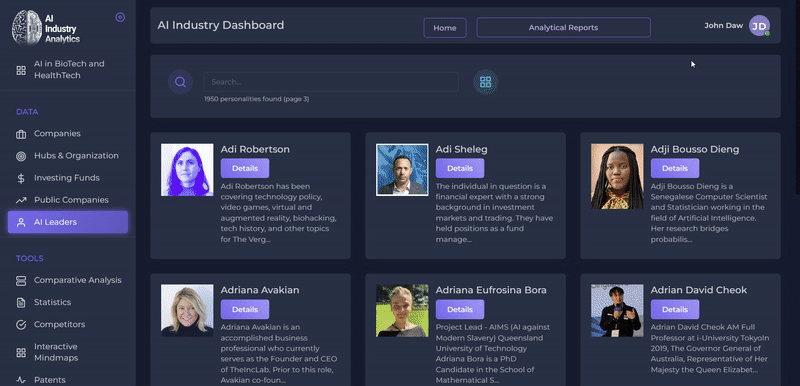 Engage with the Companies Tab
Instead of overwhelming you with data, this tab provides a meticulously curated list of companies, each with a succinct description. This concise overview allows you to select companies of interest, leading to a detailed breakdown of their USP market stance.
Dive into the Investors Tab
Tab Here, you'll encounter a wealth of information, including Portfolio insights, details on Stakeholders' Competitors, and the Portfolios of these Competitors.
Kickstart with the Competitors tab
Upon selecting a competitor's name, a detailed view presents itself.The Overview segment lays down the basic information about the competitor, their stakeholders, other competitors, and those who've invested in them.
By clicking on any entity, you'll be taken to a page dedicated to them, be it a stakeholder or another competitor.
Shift to the Competitor Analysis, and you're presented with a detailed view of the competitor's USP, their strengths in the market, and where they lag.